Speech
Choosing A Positive Pathway
 ™
As a professional speaker for over two decades, Zander has enthralled audiences with his presentations. His deft ability to talk about EPIC Choices leading to EPIC Lives as well as sibling loss and find the lighter side also has made him sought after by many diverse organizations and groups. Choosing A Positive Pathway ™ is a way of daily life for Zander and one that he wants people, the world over to understand and embrace.
EPIC Begins With 1 Step Forward: This power pack speech is not only motivating, but filled with useful and easy to implement steps.
Epic Begins With 1 Step Forward reveals:
How to begin
2 words that will keep you on your positive pathway.
How to deal with the inevitable roadblocks and detours
TODAY is the day to embark on your EPIC Adventure!
Speech
Making Lemonade: Choosing A Positive Pathway After Sibling Loss
This inspirational speech about Zander's loss of his older sister and later his sister in-law will leave audiences with clear steps that they can take today to fully engage in their own life after experiencing a loss, be it a sibling, parent, job, marriage or any loss.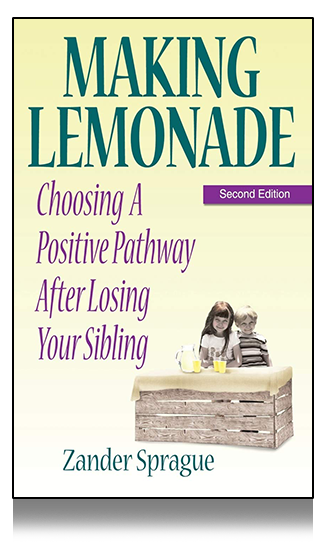 Speech
Sibling Loss in the workplace
According to the US Census bureau, there are over 1 million new sibling survivors every year in the United States. It is safe to say that you have many sibling survivors working for you right now. How has their loss affected your company? Many sibling survivors feel their loss is unacknowledged. Wellness in the workplace is recognized as having a significant impact on a company's success, employee satisfaction, and customer positive feedback. It goes without saying that a healthy employee is a productive employee.
Zander has developed an inspirational and motivational speech to help your employees who are sibling survivors and their colleagues who want to help them. There are also practical suggestions for your Human Resources Department to add to your existing Wellness Program to support your employees who have experienced loss.